The San Diego Sigma Chi Alumni Chapter
- Brotherhood Beyond College
Our alumni chapter serves ANY and ALL alumni who live in, around or are visiting San Diego regardless of where they went to school. We welcome ALL Sig alumni no matter if you went to school on the east coast, west coast, in the Midwest or the South.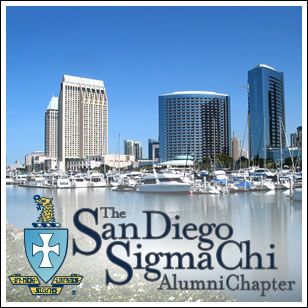 Originally established in 1938, our chapter is one of the premier alumni chapters in the Sigma Chi Fraternity and is consistently named as a standard of excellence for alumni chapters worldwide. Additionally, we have been awarded the Sigma Chi Fraternity's Alumni Chapter Excellence Award almost every year since the awards inception. With strong chapter leadership and a large loyal base of alumni members, we continue to provide exciting events and innovative programs to benefit all local Sigs.
As our fraternity strives to promote friendship, justice, and learning as the exemplification of our brotherhood and inspires a lifelong commitment to serve our families, friends, and the communities in which we live and work, so is the goal of the San Diego Sigma Chi Alumni Chapter. If you're a Sig and you're interested in community involvement, undergraduate involvement, philanthropic service, personal and professional development or social interaction, get involved today!
YOU FIND IT HERE!
Bookmark or add this site to your favorites and check back frequently as here you'll find what's going on with us.
Make sure you sign up for the mailing list to get the latest news and event information.
If you have any questions, would like to add content, add an event, correct information, or have a comment, click HERE to send us a message.